This article will show you:
How to add an exercise into your

CoachMePlus

system install
How to fill out the Create Exercise form
You need this because:
You want to create a new program and you need to populate it with exercises and circuits
Create an Exercise:
Video Walkthrough:
Step-by-Step Walkthrough:
Step 1: On the home page, select Program Builder on the menu located on the left-hand side.


Step 2: You will be brought to a new page with a new list of menus. To create an Exercise, select Library, then Exercises, and then click on the green Create Exercise button.

Step 3: You will then be brought to a menu with a form for you to fill out.


1. Titl​e - Enter the title of your exercise.
2. Upload Video - If you have a video available, you can upload it from your computer, select a previously uploaded file, or use a link. To learn how to upload a video using your mobile device or upload a video at a later date, click here.
3. Tags - Tag exercises to be able to navigate the exercise list easier.

To upload a video, click on the Select Attachment button. Select the file of your choice and select Open.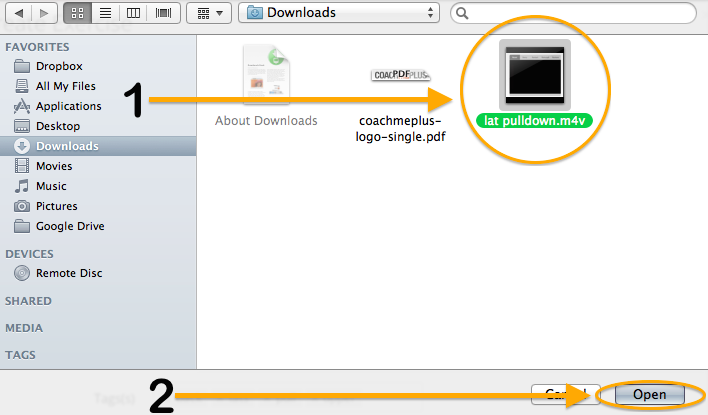 Next, fill in the rest of the information for your exercise.


4. Notes to Athlete – Insert any notes you would like for the athlete to see when performing the exercise.
5. Sets – Enter number of sets you would like for the athlete to do.
6. Reps – Enter number of reps you would like for the athlete to do.


7. Weight – Enter the recommended weight for this exercise.
8. Distance – Enter the recommended distance for this exercise.
9. Duration – Enter the recommended duration for this exercise.
10. 1RM Weight – Enter the 1RM percentage of weight for this exercise.
11. Expected Training Load – enter the anticipated training load for all sets, reps and movements of this exercise.

After you are satisfied with your settings, click on the Save icon in the upper right and it will appear in the Exercise list. If you want to edit the exercise, select it from the exercise list. If there is a video attached, the Open option will be available and you can also Modify Exercise.