The builder is a "build once, use multiple times" system that allows you to spend more time with your athletes and less time with duplicating programs and busywork. Coaches are able to build multiple workouts and assign it to a training group, subgroup, or individual.
We recommend you start by making all (or most) of the exercises you will need to build your circuits and programs. The CoachMePlus database is already populated with many exercises that you can edit to fit your needs, or use as they are.
Once your exercises are made, you will need to combine them into Circuits.
A Circuit in CoachMePlus is a block of exercises that can be added to a daily workout
. Once you have made your circuits, you can create programs. Programs are templates for several days or weeks worth of workouts. Once the program is made, you will assign athletes to the program. Once a program is assigned to an athlete, any edits made for the specific athlete will NOT be reflected in the template or for other athletes. Any edits made to the template will be reflected in the athletes' programs as long as they have not begun that day's workout.
Exercises
There is a robust library of about 1200 exercises with videos available to all CoachMePlus users. These can easily be edited to fit your needs. For more specific exercises, administrators can upload exercises with videos, pdfs, or other files.
Updating Exercises
Exercises can be updated and edited through the exercise list (as long as there isn't a lock on the exercise). You can update the exercise by adding/updating a new video, adding in any notes, changing sets, reps, and duration, and etc. To modify your exercises, click on Program Builder => Library => Exercises => (Enter Search Query) => [The exercise you want to modify]
Creating an Exercise
To create a new exercise, hit the "create" button in the upper right. Name it something you will recognize. You can simply add an exercise with weighs, reps, and any supplemental information you want your athlete to see. However, there are several different check boxes and additional form areas that can make your data better and make your programs more personalized. For example: if you leave the box "Count Toward Volume" checked, the exercise will count toward the athlete's daily load. Adding any tags is also a helpful tool for finding these exercises later. You can search by "exercises created by me" etc.
Adding Videos to Exercises
Videos are a useful supplement to the strength builder and allow athletes to visually see what they need to do to complete the workout. Videos can be shot and uploaded from your mobile device and attached to an exercise.
Circuits
​A circuit is a block of exercises within a program to separate different portions of a program. Over time, you will build a library of circuits that you can place into programs. This library should be thought of as a "build one time, use many times" group of exercises.
Programs
Programs are the full workout progression. Many days with full workouts can be created and assigned, then used again in the future. Programs can be duplicated, then customized for individuals if they need a special workout or accommodation.
Supersets
Supersets are useful when you want to alternate a group of exercises within a circuit. A Superset is two or more exercises in an alternating sequence performed back-to-back until all sets are completed with little or no rest in between exercises. Go to the day editor to alter the set order.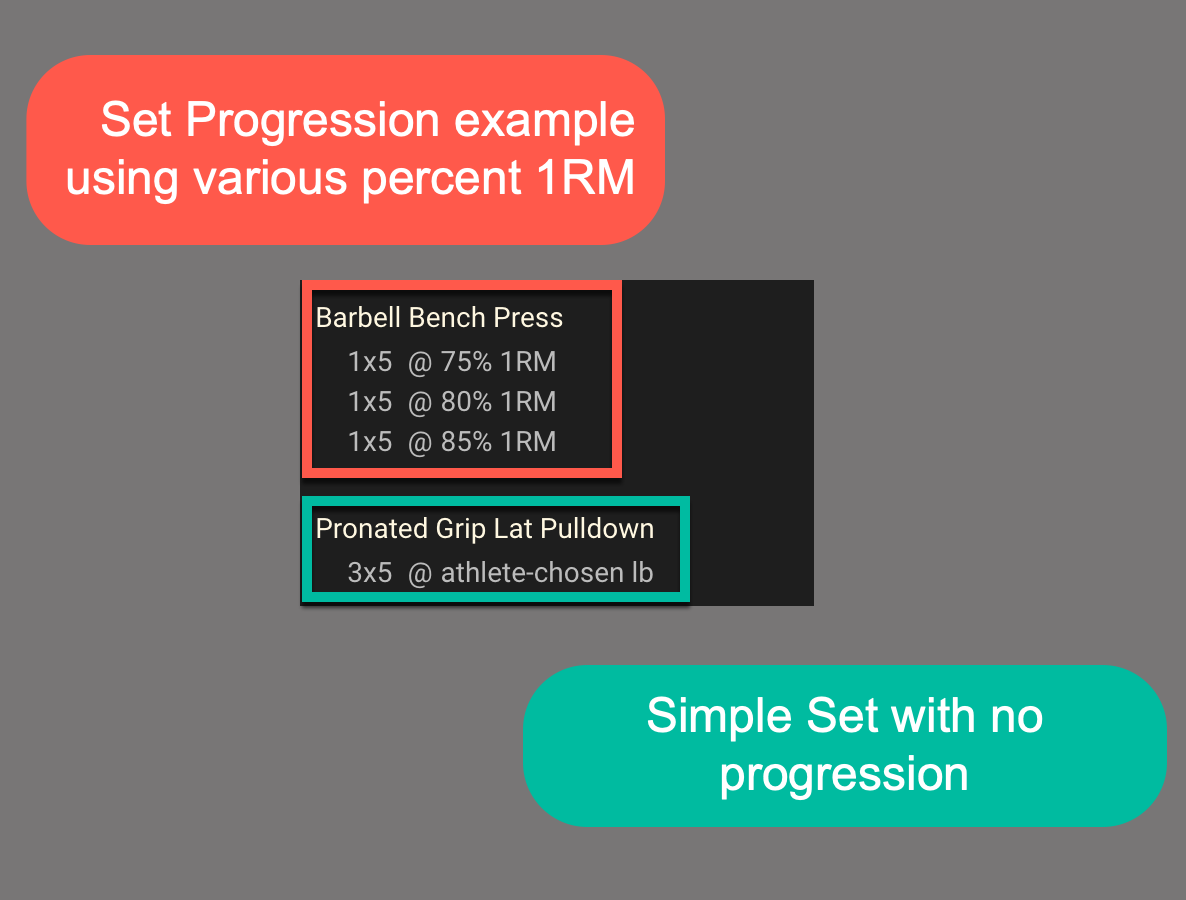 Set Progressions
Creating advanced set progressions will save time when creating workouts. An advanced set progression allows customization of an exercise within the builder giving the coach an opportunity to add/change exercise constraints, add sets, rest and 1RM Test sets. The reps/sets can be set to ascend or descend. Go to the circuit editor to create advanced set progressions.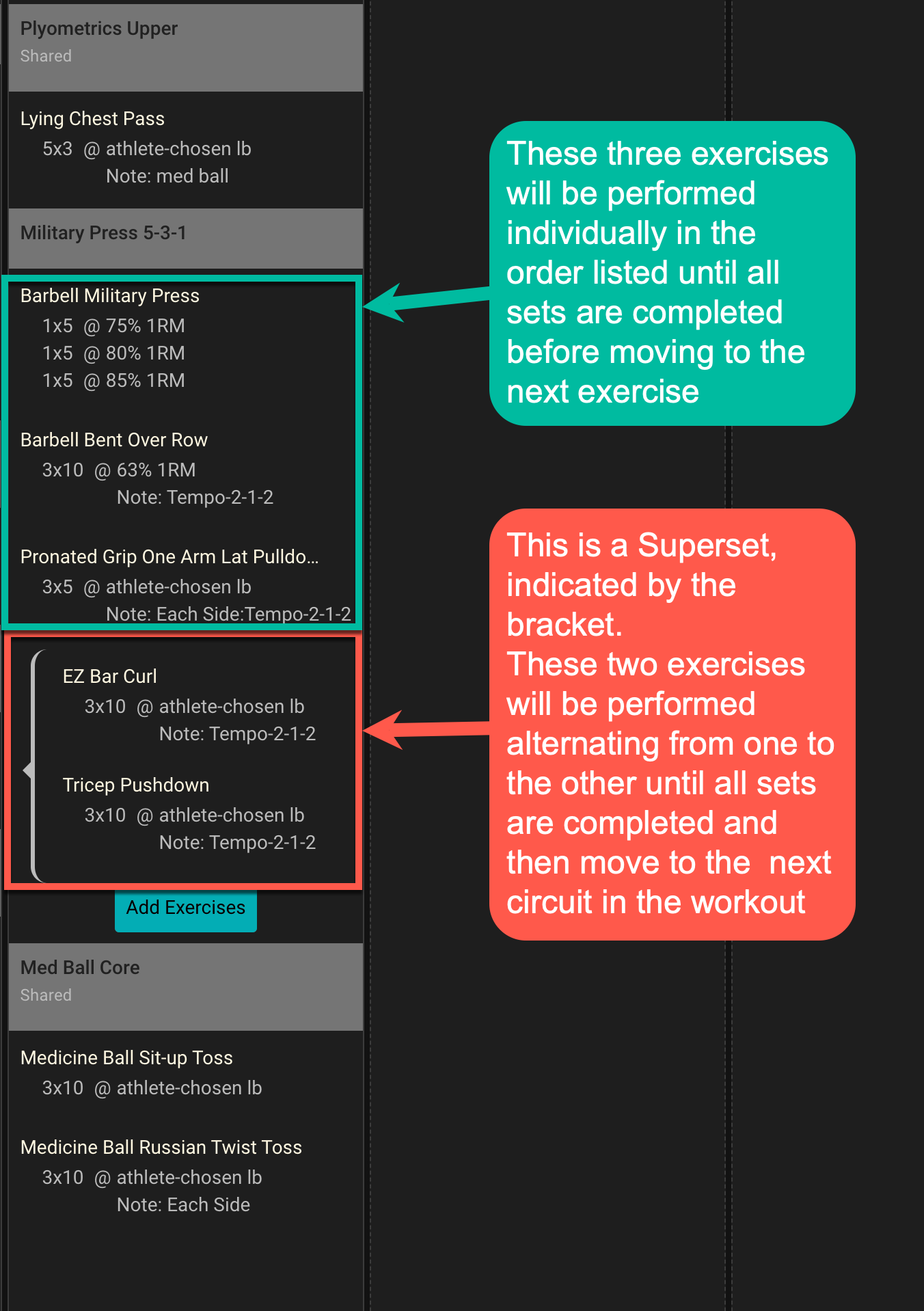 Relative Intensity
Relative Intensity helps modify values based on user input/response. Relative intensity is used to drop or raise those assigned loads and recalculate the weight values for the users without revising the entire program.
Copy Programs or Program Days
Copying program days allows you to copy your program to multiple days and saves you time in creating a new program for each day. The strength builder is designed to be a "create once and use multiple times" tool.
To copy the program, go to the program menu and click on the Copy Button on the chosen program. If you select the Copy Icon, you can select copy day and paste it onto one or more days
You can also copy a full week. If a you have different programs on M,W,F and want to replicate in following weeks you can do so.
Assigning a Program to Athletes
After you have created your Program, you will be Assigning it to your Athletes.
To assign the program, Click on:
Program Builder => Library =>Programs => Program you want to assign

Once that program has loaded onto the screen then click on:

Assign to Athlete(s) Icon => Select Athlete(s) (this can be done individually or you can select the training group header to select everyone currently in that Training Group) => Prompt on Home Screen (default is on or you can turn it off) => Continue =>Program Start Date (Today or Program Default Start Date or Specific Date) => Assign.
Customize a Program
Programs can be customized for an individual athlete when it is assigned, or on-the fly if they need a different workout. For example, if an athlete needs a lighter workout, you can adjust their program temporarily so they can complete the same workout as the team. You can adjust the program accordingly without it affecting the other athletes' workouts.
However, be aware that once a Program has been customized for an individual, this will break the link to that program in the Program Builder Library resulting in that individual's program no longer being updated if the Program in the Library is updated. This protects the original program template in the library while allowing athletes to have individualized programs.
Automatically Customize
Set Progressions
Creating advanced set progressions for athletes will save coaches time when creating workouts for athletes. An advanced set progression allows you to customize an exercise within the builder and provides athletes with specific instructions for their workout. You can make the reps/sets ascend or descend. Go to the circuit editor to create advanced set progressions.
One Rep Max/Relative Intensity
One Rep Max (1RM) is a way to build out a Library of items that Exercises reference to pull calculated values for your Athletes and the loads they are about to lift when they are doing their Exercises.
The calculated values that are collected from the Athletes provide you with Max Load (%) for your Exercise Library. The values are automatically calculated for your Athletes and personalized for their Workouts.
Relative Intensity is a concept used to help modify those values based on Athlete response. If you decide that you built your Program, however, and one Athlete's Workout needs to be modified due to the feedback that you are getting, you can use Relative Intensity to drop or raise those Loads and recalculate the values for the Athletes without revising the entire Program.
On-The-Fly Customization
You can choose to create a program on the day, or adjust an existing program for a specific athlete. Simply click on the athlete and choose "create program" or choose which program you would like to change.
As a coach, your customization options include: Quick Swap, Progression Editor, and other individual edits to any given day or circuit.
Swap Exercise tool
This is where a coach can quickly swap one exercise for another inside of a program in the event an athlete has an injury that needs to be worked around or if the the coach just wants to sue a different exercise in that program instead of what is already there.
Progression Editor
This is where a coach can create "Set Progressions" inside of a circuit as mentioned above.
"Other individual edits":
This is the obvious edits you may need to edit such as Sets, Reps, Exercise Properties, Rest, etc