This article will show you:
How to add files into your athletes files.

You need this because:

It will allow athletes to view any files that you assign to them to supplement their training.
You want to make sure athletes have all materials assigned to them and can distribute it to them in real-time. This means no more paper copies and instant delivery.

How To: Add Items into Athlete's Library

Step One: On the home page, click on Athlete Central on the left hand side menu.


Step Two: You will be brought to a new page that will have the training groups and athletes available for you to view. To add a library item, select the player you are interested in adding the item to. Our example will use Charlie Pace. Select the Training Group => Group => Player.


Step Three: After you have reached the player's page (Stallions => Forwards => Cole Weppner), you will now have access to the athlete's dashboard. Click on the Library tab to be brought to a new page for uploading a new library item.

The Library tab will display all library items and provides you with the ability to add new items.

All Library Items - A list of library items that have been uploaded to the player's account.
+Add New Item - Allows you to add more items into the player's account.

Step Four: To add a new item, click on +Add New Item and you will be brought to a new page for you to upload a new library item.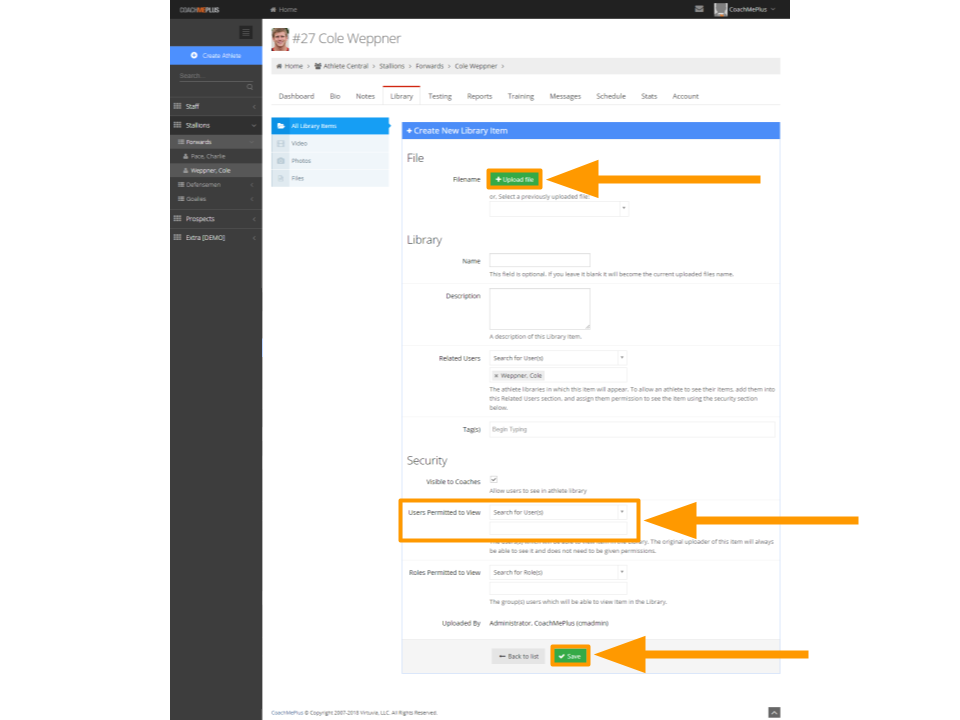 File - Area for you to upload a new file.
Library - Enter all information about the file upload.
Security - Set permissions of who can view the file that is being uploaded.

Step Five: To upload a file, select the green button labeled +Upload File.


Step Six: A pop up box will appear for you to select the file you would like to upload.

Step Seven: After you have selected the file that you would like to upload, click on Open.

Step Eight: Complete the remaining portion of the library item form and select Save. Your new library item will appear in the list.