This article will show you:
How to import Bod Pod data into the CoachMePlus system.
You want to centralize Bod Pod data into your CoachMePlus install.
You want to view all data in individual and/or group reports.
Importing Bod Pod Data to System:

Here is a sample Bod Pod file: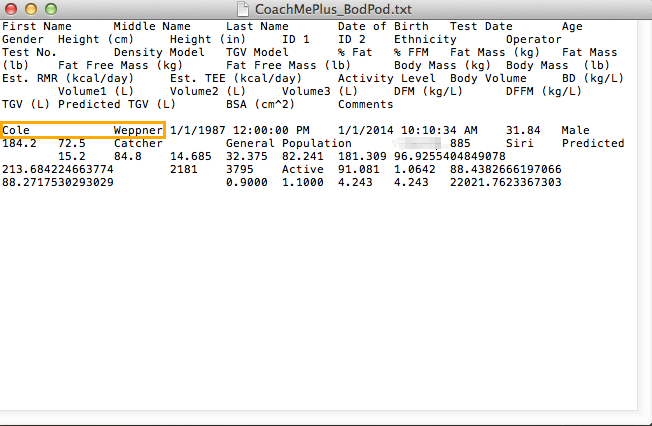 The boxed area is where you will find the Unique Bod Pod Identifier. The file contains the Athlete's Full Name and the dates of the information collected. To learn how to add an Bod Pod user, click here.

Step One: On the homepage, click on Data => Devices => Polar => Bod Pod Import on the menu on the lefthand side.


Step Two: You will be brought to a new page to start your import. Choose the file you would like to import by clicking on the Choose File button.


Step Three: Select the file you would like to import to the system. After you have selected the file, click Open.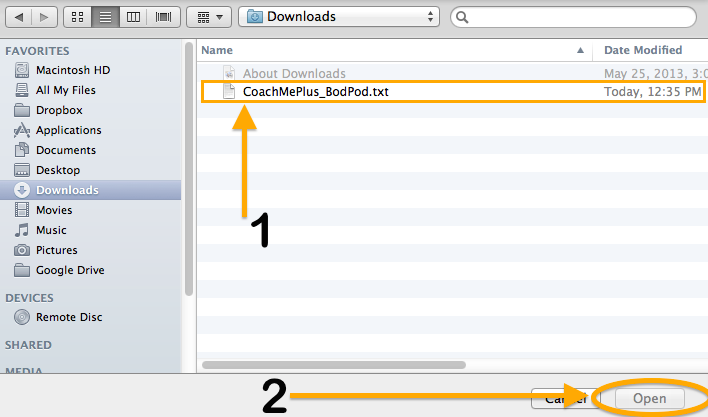 Step Four: The file will appear on the page ready for you to save.

File - The file selected will appear on the page.
Import - Click the Import button to import the file.

Step Five: Your new session will now uploaded. This information is now available for you to view as a report.

Bod Pod on Athlete Dashboard:
Assigning Device Aliases to a CoachMePlus User:

If there is an unknown user attached to the Bod Pod file, it will allow you to create and assign the "Device Alias" to a "CoachMePlus" user.

Below is an example of what it might look like if you upload the Bod Pod file and it cannot locate a CoachMePlus user:

Step One: Click Assign CoachMePlus User.


Step Two: Use the dropdown menu to find the athlete you want to attach the Bod Pod data to. Click Save when finished.


Step Three: A confirmation message will appear once it is successful.


Step Four: After adding all missing Users you may now re-import the same file to import the new users. Please note, any data which had been previously imported successfully will be safely skipped.