This article will show you:
How to import BodyMetrix data into your CoachMePlus.

You need this because:

You want to centralize BodyMetrix data into your CoachMePlus system.
You want to import BodyMetrix data into your system.
How To: Import BodyMetrix Data into CoachMePlus

Step One: To start importing BodyMetrix data, on the home page, select Data => Devices => BodyMetrix => Import.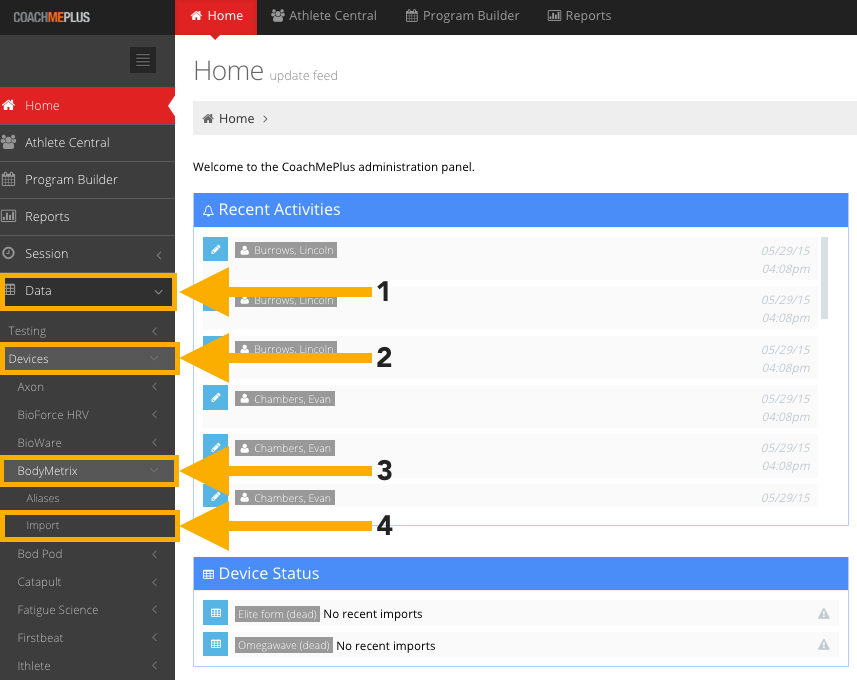 Step Two: You will be brought to a new page. Click on Choose File and select the BodyMetrix file you want to upload. Once you have selected your file, click Confirm.





Step Three: After the file is imported, a confirmation message will appear.



Sometimes if you upload your BodyMetrix file, users might not be processed because they do not have a corresponding user in the system. This can be solved by assigning a CoachMePlus user to the unprocessed users.
Step Four: If user(s) are not able to process, click on Assign CoachMePlus User.
Step Five: A new page will appear to help you assign a CoachMePlus user to match your BodyMetrix user.
CoachMePlus User - Select the CoachMePlus user you want to match with your Fatigue Science user.
Alias Type - By default, it should be set to the Device file you recently uploaded. In this case, it is Body Metrix User.
Alias - Name of the Alias
Step Six: Use the drop-down menu to select the CoachMePlus User that will match the BodyMetrix user.
Step Seven: Once satisfied with selection, click Save.
Step Eight: A confirmation will appear and your users are now matched