​

Module 1 2 3 4 5 6 7 8 9 10 11 12 13 14 15
Table of Contents


Overview:
Supersets

Relative Intensity
Full instructions for updating Relative Intensity for an Athlete



Figure 1: Example of editing the relative intensity for an athlete. In the day editor, select the three dots icon in the upper-right of the circuit, then relative intensity.
​
Relative Intensity is a concept used to help modify those values based on athlete response. If you decide that you built your program, however, one athlete's workout needs to be modified due to the feedback that you are getting. You can use relative intensity to drop or raise those loads and recalculate the values for the athletes without revising the entire program.

AABB/ABAB (Superset)
Full instructions for building a superset


Figure 2: Example of an AB AB order.


Figure 3: Example of an AA BB order.

Supersets are useful when you want to alternate a group of exercises within a circuit. A Superset is two or more exercises in an alternating sequence performed back-to-back, with no rest in between. Supersets are often used in a push-pull workout, such as an alternating bench press and pull downs. Go to the day editor to alter the set order.

Customization Tools

Advanced Set Progressions
Full instructions for creating advanced set progressions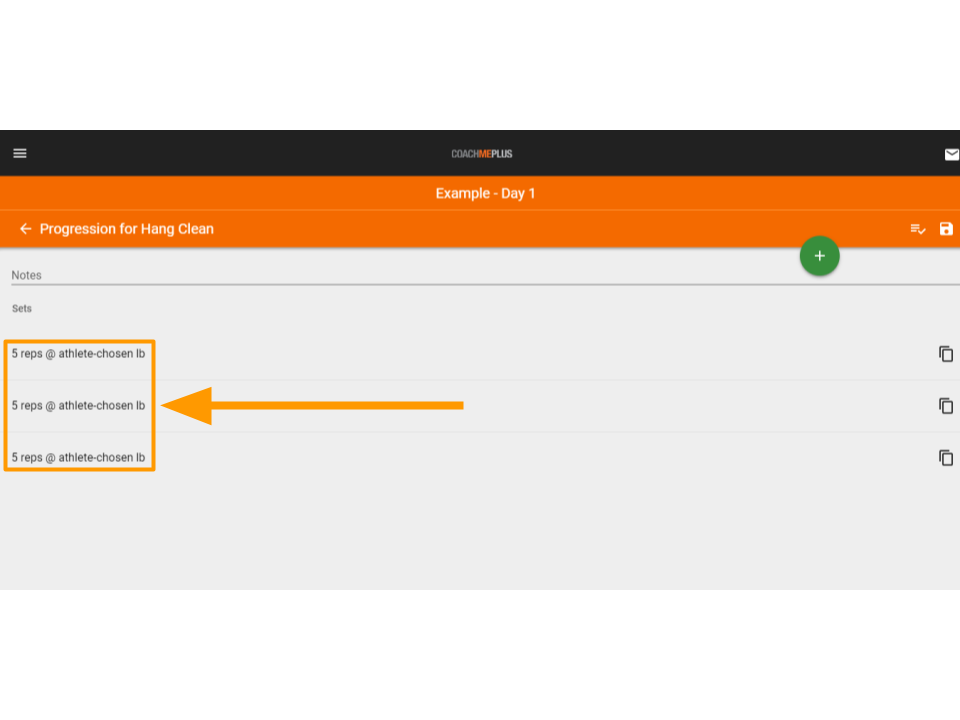 Figure 4: Example of editing reps and weights for exercises for set progressions.


Figure 5: Example of changed reps and weights for exercises. Notice how the # of reps decreased for each rep and also increased the weight.

Creating advanced set progressions for athletes will save coaches time when creating workouts for athletes. An advanced set progression allows you to customize an exercise within the builder and provides athletes with specific instructions for their workout. You can make the reps/sets ascend or descend. Go to the circuit editor to create advanced set progressions.

Customizing a Program
Full instructions for creating a customized workout


Figure 6: Example of an athlete's customized program. The icon next to the program name indicates that it is a customized program.

Programs can be customized for an individual athlete if they need a temporary workout. For example, if an athlete needs a lighter workout, you can adjust their program temporarily so they can complete the same workout as the team. You can adjust the program accordingly without it affecting the other athletes' workouts.

Copying Program Days

Figure 7: Copy day icon in Strength Builder.


Figure 8: Select the days you want to paste the program days to and select paste.

Copying program days allows you to copy your program to multiple days and saves you time in creating a new program for each day. The strength builder is designed to be a "create once and use multiple times" tool. Go to the day in the program that you would like to copy to find this menu option.
To copy the program, go to the program menu and click on the Copy Button for the program you would like to copy.
You can also copy program days while on the actual day. If you select the Copy Icon, you can select copy day and paste it onto one or more days

Assigning Program to Athletes
Full instructions for creating a program


Figure 9: Example of assigning program to athletes.

Once you are satisfied with your program, assign the program to your athletes. To assign the program, click on the Program you want to assign => Assign to Athlete(s) Icon => Select Athletes => Program Start Date => Assign.

Filter/Search (Advanced Options)
Filtering/Searching is made easier with tag(s) and advanced options feature. When searching you use the filters and search tools to easily locate athletes, exercises, circuits, exercises, and/or file uploads.

Click on Filter and fill out the necessary information to locate your items.
​
Archiving
Full instructions for archiving/unarchiving exercises, programs, and circuits


Figure 10: Example showing how to archive a program.

Archiving exercises, programs, and circuits helps coaches track and manage all data. Archiving keeps all data entered into the system securely stored and gives coaches the ability to retrieve previous exercises, programs, and circuits.

Module 1 2 3 4 5 6 7 8 9 10 11 12 13 14 15
Table of Contents